Getting Around
Registration for 2023-2024 parking permits and obtaining NFTA Cram Passes and student IDs will begin on August 22nd, 2023.

The schedule for the SUNY Erie shuttle will also be available on our website after August 22nd.

All transportation services are supported by the transportation fee and require no additional cost for use.
Do you have a question or comment? We'd like to hear from you. Drop us an email at
transportation@ecc.edu
.
View our current shuttle schedule
Enhanced ID – Bus Access
The Enhanced ID program provides students with unlimited access to the NFTA Metro Bus and Rail System. Enhanced IDs are required to utilize any NFTA services; a regular photo ID or class schedule will not be accepted as valid fare on the bus or rail. Pick up enhanced IDs at City campus beginning the first day of classes, or have your ID shipped to North or South campus if that is more convenient.
View the NFTA Schedule
View the NFTA Park & Ride Locations
Rideshare Portal
SUNY Erie Community College has joined Go Buffalo Niagara, a transportation program that helps you travel to and from school or work with ease.
Emergency Phones
Blue-light emergency phones are located at various points on campus.
Shuttle Service
Shuttle bus service is available to transport students between SUNY Erie's campuses during the spring and fall semesters when classes are in session. Utilize this free service to attend athletic events, take classes at another campus, for work-study, or to get involved in Student Government!
Parking
Campus parking is by permit only.
City Campus Student Parking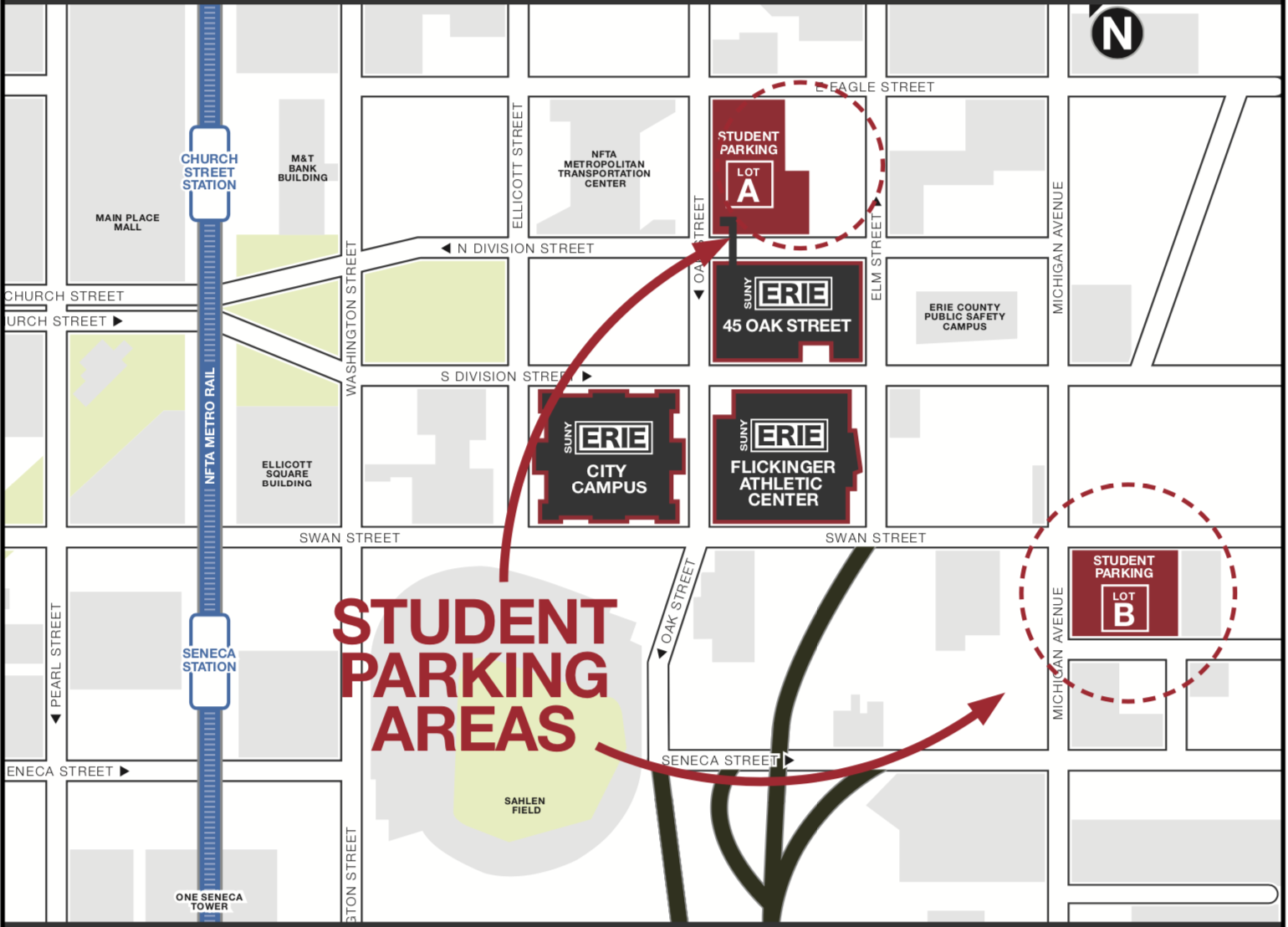 Student Parking Lot A
45 Oak Street
Monday - Friday 7 a.m. - 10 p.m., Saturday 7 a.m. to 3 p.m.
Student Parking Lot B
175 Swan Street
Monday - Friday 7 a.m. - 10 p.m., Saturday 7 a.m. to 3 p.m.
North and South Campus Parking
Information on parking locations can be found on the Visit SUNY Erie webpage.
Student Parking Permits
To register for a parking permit, visit www.permitsales.net/SUNYErie and have the following information ready for online registration:
Student ID Number
Vehicle Make, Model, Color and Year
License Plate Number and State
Registered Owner Information and Relationship to Driver
Driver's License Number and State
Bring your confirmation to the College Safety Office at your campus to pick up your parking permit.
For assistance, email transportation@ecc.edu or call (716) 270-5629.
Parking Permits for Faculty and Staff
North and South Campus: Bring your Employee ID, license plate number, and a copy of your vehicle registration to the Campus Safety Office.
City Campus: There is no free staff parking at City Campus.
Low Emission Vehicle Preferred Parking at North Campus
Preferential parking spaces for low-emission (LEV) and fuel-efficient vehicles are located in designated parking areas around campus. These spaces are reserved for qualifying permit holders only.
To apply for an LEV parking hang tag, verify that your vehicle meets the requirements by checking the list of LEED-qualified cars. Qualified vehicle owners should bring the completed Preferred Parking application to the North Campus Security Office.
Parking & Traffic Regulations
All eligible SUNY Erie community members will be issued a Vehicle Registration Permit upon the completion of vehicle registration and the payment of the required fee(s), if applicable. The Vehicle Registration Permit must be clearly displayed, hanging from the rearview mirror. The permit number must be visible.
Parking is prohibited at all times on the roadways (except as posted), sidewalks, lawns, grounds, lanes, and throughways of parking areas. The College may have illegally parked vehicles towed away at the owner's expense. All unpaid parking tickets, towing charges, and storage costs will be the responsibility of the owner and must be paid before the vehicle is released.
Parking rules and regulations are subject to change for certain campus events, special occasions, and emergencies. Restrictions will be posted by the College Safety Office and will be strictly enforced.
For additional information on vehicle registration, permits, permanent or temporary handicapped parking permits, parking policies, parking fines, parking penalties, and liabilities, please reference the Official Compilation of Codes, Rules, and Regulations of the State University of New York, Section 560.3 -Campus Rules and Regulations [8 CRR-NY 560.3NY-CRR]