GED Student Finds "Pathway" to Success at SUNY Erie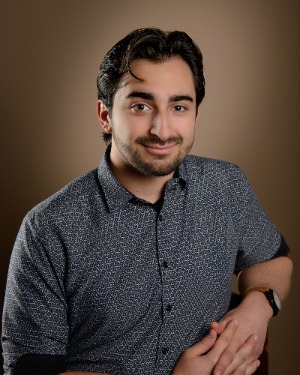 Meet Ian Stover, '23
Ian Stover, an Amherst native, will graduate this spring with an associate degree in Social Science. He'll attend the University at Buffalo in the fall to add a bachelor's in Legal Studies and hopes to attend George Washington University Law School after that. Ian found a path that fit his interests with the help of faculty at SUNY Erie, but his path wasn't always so clear.
While struggling with mental illness at a young age, Ian fell back a grade during high school. He later dropped out – even though he earned high marks – because he developed negative views of "school" in general. Ian knew he wanted a career he could be proud of, but he didn't know where to begin. His supportive family encouraged him to earn his GED and enroll in SUNY Erie's Pathways program.
With his strong academic skills, Ian completed the coursework easily and passed his exam.
"Earning my GED was like a whole new world for me," explains Ian. "Every single staff member I interacted with was extremely understanding and helpful. They really helped build my confidence."
Ian enrolled in SUNY Erie's Criminal Justice program; however, he still didn't feel quite ready for a college environment. He withdrew and took two years off. After taking time to learn and reflect, Ian decided to study what he loves – history, government and sociology – and enrolled in ECC's Social Science program.
"Day one, I fell in love with my classes," remembers Ian. "Taking that time off allowed me to actually get more in touch with myself and figure out what goals I was going to set for myself."
Not only did Ian excel academically he also became heavily involved in campus activities and has taken a leadership role as a student ambassador, serving as a voice of the student body to the college's administration, and collaborating directly with SUNY Erie's acting president, Dr. Adiam Tsegai.
"The student ambassador experience has certainly changed my life because I've come in contact with so many helpful people who want to see me, and the entire school, succeed," he says. "I honestly can leave this place feeling like I'm ready for a four-year university, a career – and whatever life brings."
Ian believes the personal connections he made with his professors provided him the direction and confidence he needed. He keeps in touch with most of the professors he took courses from over the years, crediting the individual attention and care they provided with his success.
"This place has been an absolute gem in my life," Ian attests. "SUNY Erie has given me enough space and time to figure out myself, and they've supported me along the way. The amount of help and care you get from the faculty and staff here is just unfathomable. It's unlike anything I've ever experienced in school. The connections you make here are unlike any other."
The Pathways program offers non-tuition coursework for GED candidates and English as an Additional Language (EAL) students. The program also offers pre-collegiate courses designed to provide remedial math and English to help prepare students for college-level success. You can learn more about the Pathways program, here.