SUNY Erie Center for STEM Studies
The new Center for STEM Studies at SUNY Erie houses classrooms and labs for science related programs like Physics, Engineering Science, Anatomy & Physiology, Microbiology, and Chemistry, as well as shared instructional spaces, collaborative study spaces, a tutoring center, and faulty offices. The campus, largely untouched since inception, was recently identified as eligible for National Register historic status. As a result, the design of the STEM Building was developed to be sensitive to the scale and materials of the existing campus buildings, and respectful of the original campus plan. It was certified Gold under LEED New Construction Version 2009, which emphasizes state of the art strategies and certifies buildings according to the sustainability of the site, water efficiency, energy use and impact on the atmosphere, materials and resources, indoor environmental quality, and innovation and design.
Sustainable Features
Energy Efficiency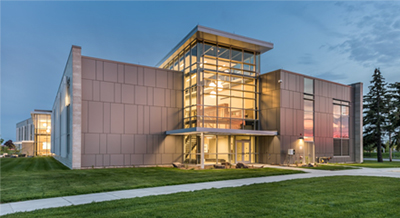 LEED® Gold certified with a score of 62 out of 110 points for a new construction under version 2009; the only building on SUNY Erie campus to achieve this level of green building distinction
Designed to reduce capacity requirements for HVAC systems and associated infrastructure (power, pipes, ductwork, pumps, etc.) by 31%
Robust Building Envelope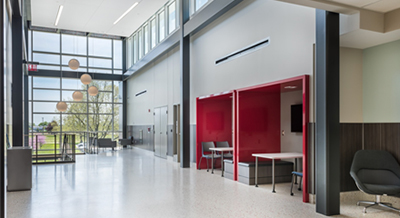 Provides optimal energy efficiency
Building envelope reduces thermal heating losses and solar cooling loads, and maximizes natural daylighting
High performance wall, roof insulation and vertical window louvers reduce winter heat losses and summer heat gains
High performance, low-e (low-emissivity) windows provide state-of-the-art solar and thermal control and energy efficiency, while admitting maximum daylight
Central Station Indoor Air Handling Unit with Hot Water Heating Plant and Chilled Water Cooling Plant
Economizer operation provides "free cooling" and enhanced natural ventilation using outside air when ambient temperatures are cooler and drier than indoor temperatures, without mechanical refrigeration.
Variable speed fans provide significant energy savings when the building is operating at partial load periods.
Energy recovery core provided energy savings by capturing exhaust air energy and transferring it to the incoming outdoor air. Provides additional savings in the summer by removing heat from the incoming outdoor air by transferring it to the exhaust air.
High performance MERV13 air filter that provides superior indoor air quality
Hot water is generated by high efficiency boilers. The water is distributed by premium efficient pumps that utilize variable speed drives to reduce energy usage during partial load.
Chilled water is generated by a high efficiency air-cooled chiller located on the roof. The chiller has been selected to operate at optimum conditions during part load, which represents a significant portion of the school year. The chilled water is distributed by premium efficient pumps that utilize variable speed drives to reduce energy usage during partial load.
Variable Fume Hood Sash Control
The HVAC system tracks the fume hood sash position to reduce the airflow exhausted from the fume hood when not in use. This reduction in make-up air provides significant savings in both fan energy and in heating/cooling energy.
The exhaust fans on the roof utilize variable speed drives to discharge the fume hood gases safely away from the building.
Building Management System (BMS)
Direct digital control (DDC) building management system connected to SUNY Erie campus monitors, controls, and provides feedback on various systems for optimal energy efficient operations.
These systems include systems for Heating, Cooling, Ventilation, Refrigeration, Exhaust, Heat Rejection Equipment, Pumps, Water Loops Control, Filtering Stations, Fire Alarm Controllers, Compressors, Condensing Units, Heat Exchangers, Boilers, Generators, Fire Suppression Systems and light controls.
Responds to current conditions, predicts daily ambient temperature and humidity swings based on time of year, and uses past historical weather patterns.
Meters and sensors provide building operating profiles and trend data to monitor energy efficiency on an ongoing basis.
Favorable temperatures and humidity levels trigger a "night purge" to draw cool, dry outside air through building spaces.
Solar Photovoltaics (PVs)
Renewable energy system generates electricity from the sun.
Offsets the annual energy consumption of the STEM facility.
Demand Control Ventilation (DCV)
Various systems monitor temperature, humidity and CO2 in occupied spaces, ensuring high quality air delivery through ceiling distribution systems.
Breathing zone air ventilation rates are 30% above ASHRAE Standards 62.1-2004 Ventilation for Acceptable Indoor Air Quality (IAQ) requirement.
At less than full building occupancy, the DCV system reduces ventilation air volume, and thus reduces energy required to heat or cool and dehumidify the ventilation air.
Daylighting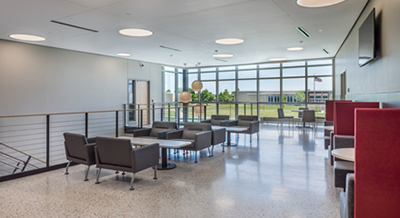 Extensive daylight in most spaces
Ceiling surface and interior finish color schemes provide high reflectance values
When natural daylight is insufficient, high performance, energy efficient LED lighting equipped with daylighting sensors, controls, and dimming ballasts are engaged
Occupancy sensors turn off lighting in unoccupied rooms
All regularly occupied spaces within 15 feet of perimeter windows to maximize quality of light.
Exterior LED lighting on integral time clock and photocell
Sustainable Materials
Sustainable and innovative materials and finishes applied throughout the building
Materials include those that are locally produced, low VOC and formaldehyde free; have high recycled content; and are highly durable with long service lives and ease-of-maintenance
80% of new wood-based materials in the building including doors, corridor panels and millwork are FSC certified.
Sustainable Landscape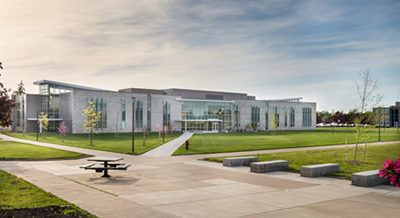 Sustainable landscape features over 36 non-invasive,drought tolerant, native plant species; view the complete plant list
Rain garden serves as bioretention area which captures and filters stormwater runoff from the building roof
Restores natural landscape function, provides wildlife habitat, and offers educational opportunities
Perforated underdrain system and lawn filter areas to hold and filter large volume of stormwater on-site, allowing water time to infiltrate into the underlying soil