86 Graduate from SUNY Erie's Programs at Northland
SUNY Erie Community College celebrated 86 graduates on Aug. 18 who earned certificates or associate degrees from the college's Mechatronics and Mechanical Engineering Technology programs taught at Northland Workforce Training Center. The graduates will enter the workforce with in-demand skills, ready for employment in the region's advanced manufacturing sector.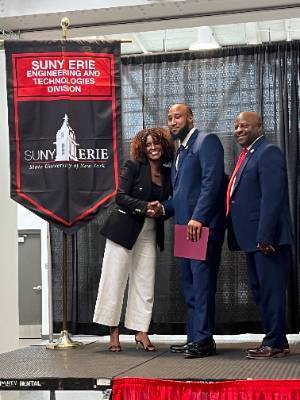 "We're incredibly proud of all of our graduates and the tremendous effort they put in to succeed in their job training and education," remarked SUNY Erie Officer-in-Charge Dr. Adiam Tsegai. "These programs are a reflection of SUNY Erie's commitment to academic excellence and addressing regional workforce needs by providing affordable pathways to employment, in collaboration with our trusted community partners, like Northland Workforce Training Center."

Larry White III, a graduate of the Mechatronics program, served as the student speaker for the celebration ceremony. White is currently employed at Erie County Medical Center.

The Mechatronics program trains technicians with "multi-craft" skills and applies them within a manufacturing environment. The two-semester certificate program teaches skills in electrical, mechanical, hydraulics, pneumatics, robotics and computer technologies.
The Mechanical Engineering Technology associate degree is designed to fully prepare students for the local advanced manufacturing workforce, as a continuation of Mechatronics training. This year's graduates represent the inaugural class of Mechanical Engineering Technology students.


"We are proud to congratulate the SUNY Erie at Northland Workforce Training Center Class of 2023. Our talented graduates have completed their education and are embarking on a journey that will shape the landscape of advanced manufacturing," said Stephen Tucker, president and CEO, Northland Workforce Training Center. "Thanks to our partnership with SUNY Erie, our graduates have been well-equipped to lead the future of manufacturing with best-in-class education. I'd like to thank Governor Kathy Hochul and Mayor Byron Brown for their vision and support as well as Empire State Development, our Board of Directors, and our funders for their commitment and contributions to this transformational project."