Flickinger Center Renovation Allows Economic Benefits to Endure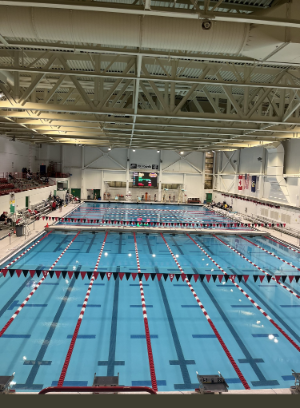 A dozen events this year at SUNY Erie's Burt Flickinger Athletic Center will bring more than 6,400 visitors to downtown Buffalo and generate more than $6 million for the local economy. To ensure the center's continued role as an economic and tourism driver and community asset, the facility's natatorium recently underwent a $2 million renovation.
Funded by New York State and Erie County, the renovations included a complete pool resurfacing, a new sound system, new diving boards and a new filter system.
"This athletic complex is a tremendous community resource that brings thousands of people to our campus on a yearly basis. It's an asset for our students, the community and the thousands of local youths who use the facilities. It's also important for our local sport tourism business," says SUNY Erie Director of Athletics Steven Mullen. "These renovations will ensure this athletic complex will continue to benefit our community for another generation or two."
The Burt Flickinger Athletic Center opened as a legacy to the World University Games in 1994. The facility houses an Olympic-sized swimming pool, a 25-meter warm-up pool, three basketball courts, a 3,000-seat field house, a 1/9-mile indoor jogging track and a wellness center.
In addition to SUNY Erie Athletics, the center serves as the home of the Canisius College swim teams, the STAR Swimming youth club, St. Francis High School's swim team and other groups. Various law enforcement agencies also use the pool for special training.
Together with the Buffalo Niagara Sports Commission, SUNY Erie has worked to attract several large-scale competitions to the Flickinger Center. New this year, the commission, a subsidiary of Visit Buffalo Niagara, secured the USA Artistic Swimming Youth Championships in April, which is expected to produce an economic impact of $625,000.
Recently, the athletic center has also hosted major swimming and diving events like the MAAC Championship and will soon host the YMCA State Championships and the USA Swimming Senior Zone Championships.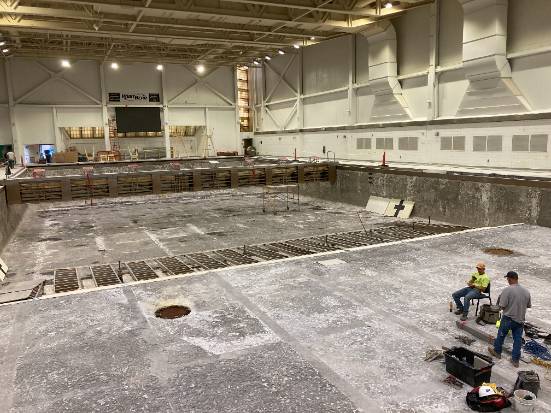 "We're thrilled to have quite a few major competitions taking place in the natatorium at the Flickinger Center this year," remarks Patrick Kaler, president & CEO of Visit Buffalo Niagara and Buffalo Niagara Sports Commission. "These events are an important economic generator for our downtown hotels in the winter months and are just the beginning in a series of top-tier athletic events coming to Buffalo in 2023 that will bring thousands of new visitors here and generate millions of dollars for the local economy."