Full-Time Mom, Nonprofit Founder, Adds to Her Success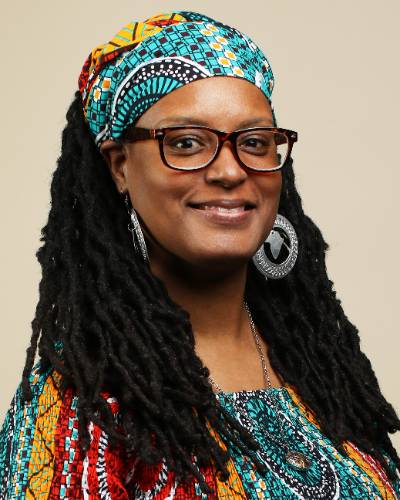 Zimriyah came to SUNY Erie in the summer of 2020, after working 20-plus years as an entrepreneur, nonprofit leader, health care worker and homeschooling mother.
A busy mom of two, Zimriyah runs a nonprofit with her husband. Their organization, Wise Young Builders, provides youth enrichment opportunities through carpentry to strengthen math skills, confidence and exposure to hobbies and careers.
"I was busy creating life, but always knew there would be a point that I was going to have to go back to school because I'm a life-long learner," she says. "We've been running this organization, but I sometimes felt like I was building a plane in the sky, and that gets tiresome. I felt there were gaps, and I knew the more education you have, the larger your frame of reference."
Zimriyah wanted a degree but wasn't sure about her major, so she went to one of her professors for assistance. After she explained her goals, her professor suggested a social science major with a minor in human service management. This gave Zimriyah the knowledge and resources to transfer credits and take courses best suited to her.
"I had an advocate!" she explains. "Someone who knew my name and background and gave me some direction, so that really made me feel safe and secure with my educational path."
Enrolling during the pandemic presented its own challenges, Zimriyah recalls. However, she benefitted from supportive faculty with diverse, real-world experiences who she could easily relate to and come to for help.
"I'm a minority. All my life, I had been educated mostly by European descendants. That's a problem when you do not see yourself in education," Zimriyah attests. "Having a Black professor at ECC was amazing because I could relate to everything. The way he taught his classes…he spoke my language."
Zimriyah also appreciated the small class sizes and individual feedback she received from professors.
"Previously, so much of my education was blind," she says. "You didn't get graded for weeks. But to get that feedback right away boosts your confidence and shows they care about you understanding the subject."
Nominated to the National Society of Leadership and Success, Zimriyah earned her associate degree with high distinction in 2021. She now takes courses online at Alfred State College as she works toward a bachelor's degree in human service management.
"My education has already made me more confident managing our nonprofit and working with our staff," she says. "It also strengthened my leadership abilities and helped me find my voice."
Hard work and dedication run in the family – one of her two children, who both graduated early from high school, currently attends ECC and will graduate this semester. Zimriyah is proud to have led them by example as she continues her educational journey while serving others.