New Culture Club Connects Students Through Diversity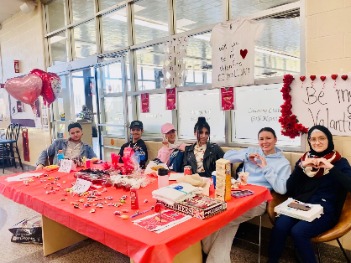 When Valensera Hasan arrived on North Campus last fall, she immediately noticed the cultural diversity of the student body. As a Kurdish refugee from Syria, Valensera thought it would be nice to have a way for all students to gather and share their cultures.
"When I came to SUNY Erie, I realized all the students have beautiful differences. So, I came up with the idea to start a culture club, so people could get to know each other," she explains. "This is what our school is about. It's bringing our differences with us and making new families. I feel like this is my second home and I started a new family here. So, I wanted every student who's coming from a different country, or just a different state, to be able to express themselves."
With the help of SUNY Erie Dean of Students Jason Perri, Valensera quickly took her idea from concept to reality.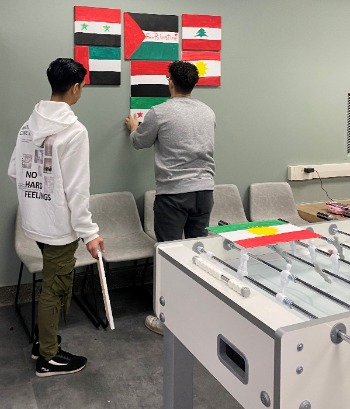 The Culture Club hosted its first activity in January, inviting students to come and paint the flags of their home or ancestral countries and design t-shirts one afternoon. They hung the flags and received so much interest, they continued to offer paint and supplies for students to create their own flags for a whole week.
The flags now hang in the student lounge, where Mr. Perri says the group created "an incredible mosaic."
"It's really nice to see our students' backgrounds represented and it also creates a welcoming space for everyone to enjoy," he attests. "It helps people recognize that they're respected, and that their culture is respected and celebrated. Yes, we are SUNY Erie Community College, and we serve Erie County, but we also have students who come from all over the world. I think it's really incredible to be able to show that and make students feel at home and welcome here."
The club also hosted a Valentine's Day activity, encouraging students to express love in their own language on a club poster.
The Culture Club's faculty advisor, Amie Pistrin-Faust, regards the club as a strong enhancement to Student Life on campus.
"We are fortunate to have a culturally rich and diverse community and it is wonderful to be able to offer our students an opportunity to be proud of their individual backgrounds as well as learning more about others," she says.
The Culture Club has seen tremendous interest, with 15 student leaders and 121 members. Valensera even says the group's Tik Tok & Instagram pages have driven interest from prospective students.
"It's so amazing to see how all the students are engaging," she says. "It's encouraging them to be proud of who they are and also building school pride."
Students interested in learning more about Culture Club can contact Valensera at hasanv223@students.ecc.edu or contact Amie Pistrin-Faust at pistrina@ecc.edu. Students can also connect with the group on Instagram @ecc_culture_club.