SUNY Chancellor King Makes First Visit to SUNY Erie
SUNY Erie proudly hosted SUNY Chancellor John B. King, Jr. for a tour of North Campus and the Northland Workforce Training Center on April 5. Chancellor King, the former U.S. Secretary of Education, also met with scores of faculty members, staff, students and alumni, engaging them in discussions about how SUNY can best support the college.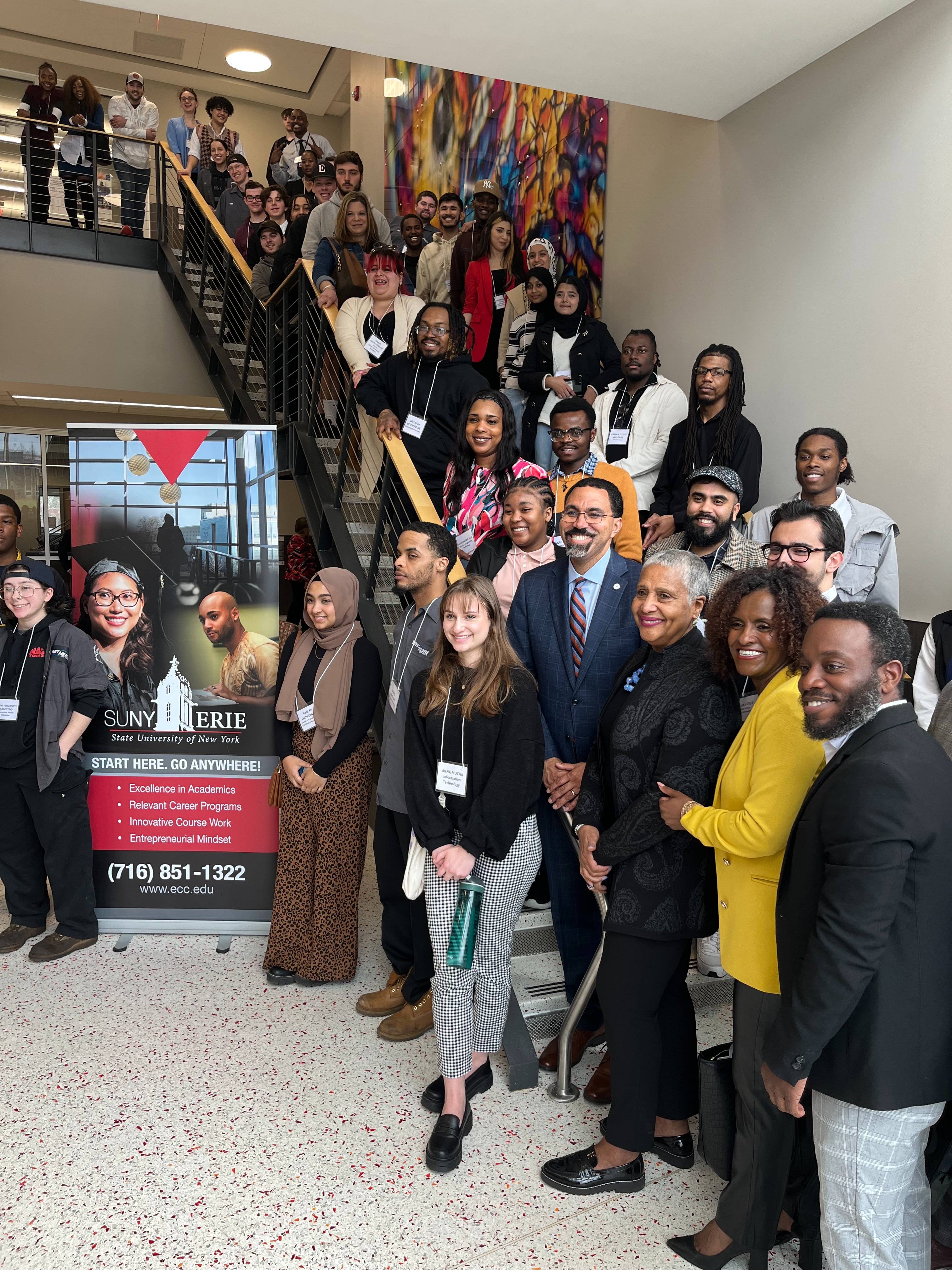 SUNY Erie marked the 37th stop on Chancellor King's semester-long tour of all 64 SUNY campuses.
Chancellor King explored the Center for Nanotechnology Studies, CNC (Computer Numerical Control) Laboratory and School of Dental Hygiene, among other areas. He also learned more about our Mechatronics programs and other certificate programs offered at Northland Workforce Training Center. He even met with a graduate of Northland's inaugural Mechatronics cohort, Vanessa-Marie Hall, who now works with Northland in a community outreach capacity.
While meeting with faculty, Chancellor King spoke with several passionate SUNY Erie alumni about why they chose to come back to teach. He asked several questions and explained the four key focus areas of his vision for the SUNY system – driving student success, investing in research and scholarship, advancing diversity, equity and inclusion, and pursuing partnerships to achieve economic growth.
"We need to ensure all of our campuses are places of belonging," Chancellor King emphasized. "I think we have a special responsibility in the state of New York to stand up on the importance of diversity, equity and inclusion as a part of a well-rounded educational experience."
During his meeting with students, Chancellor King described how he developed a love of education and how his experiences at school gave him the opportunities to rise from a traumatic childhood after losing both of his parents at a young age.
"School was the one place in my life that was safe, consistent and nurturing. Because of the role educators played in my life, I decided to become a teacher."
A former high school social studies teacher, Chancellor King rose to become New York State's Commissioner of Education and later served as the U.S. Secretary of Education under President Barack Obama.
Chancellor King engaged students and alumni in a wide-ranging discussion about how SUNY can support ECC, while listening as they shared their varied SUNY Erie journeys.
"ECC was the best decision I made because it was the perfect stepping stone between high school into academic life," described one first-year student, who suggested increased collaboration with high schools to drive awareness.