SUNY Erie Law Enforcement Training Academy Honors Officer Aaron Salter
On May 14, 2022, Retired Buffalo Police Officer Aaron Salter heroically gave his life while working as a security officer during a horrific, racist mass shooting. His actions that day undoubtedly saved many lives.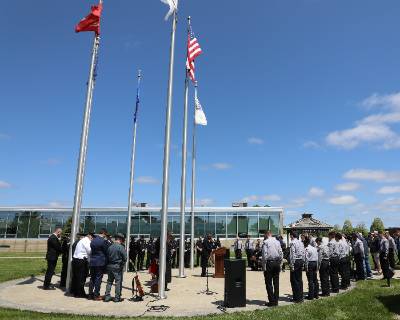 On Wednesday, May 17, 2023, the Law Enforcement Training Academy at SUNY Erie honored Officer Salter and placed a plaque in his memory in the Academy's Wall of Honor display case, alongside other officers who have valiantly sacrificed their lives while protecting and serving.
The current 142nd Police Basic Class all stood in attendance at the ceremony at Heroes Memorial Park, outside the Academy's offices at SUNY Erie's North Campus.
Officer Salter's wife, Kimberly Salter, gave a stirring tribute to her husband and had some words of advice for the trainees.
"Take your job seriously. Love your family immensely. Treasure your wife or significant other. Your kids – love them every second of the day. That's what my husband did," she advised. "These are God's people out here. Protect and serve to the best of your ability, and God bless."
County Executive Mark Poloncarz, U.S. Attorney for the Western District of New York Trini Ross and Rev. James Lewis, chaplain for the Buffalo Police Department, all spoke in remembrance. SUNY Erie Board of Trustees Vice Chair Melodie Baker – who knew Officer Salter well – also shared some words.
"Aaron was an uncle to me, an uncle to the community and an uncle so many," she remarked. "He demonstrated what it meant to be a true leader."