Tsegai Represents SUNY Erie at Community College National Legislative Summit, Meets with U.S. Senator Gillibrand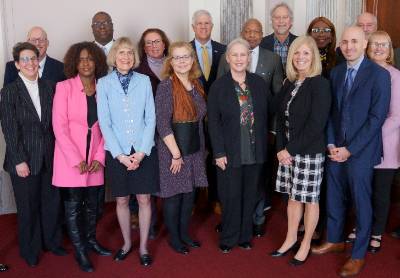 SUNY Erie Officer-in-Charge Adiam Tsegai attended the recent Community College National Legislative Summit in Washington, D.C.
Sponsored by the Association of Community College Trustees (ACCT), in collaboration with the American Association of Community Colleges (AACC), the four-day event featured hundreds of community college leaders from across the nation. They all gathered to discover, discuss and work to improve many of the issues facing community colleges coast to coast, such as enrollment, retention, affordability, equity, access, health and wellness, and more.
The conference featured Dr. Jill Biden, our nation's First Lady and a longtime community college educator who remains a staunch advocate for increased educational opportunities for all. She provided a pre-recorded message which was shared with attendees during a keynote session. In addition, there were dozens of presentations from leaders across higher education, including administrators, authors, researchers and journalists, as well as numerous officials spanning many levels of government.
"The Community College National Legislative Summit was a great event highlighting exceptional speakers," Dr. Tsegai said. "As leaders, we had an opportunity to engage in a robust discussion and build relationships while connecting with fellow community leaders from throughout the nation to advocate for our students and colleges."
Additionally, Dr. Tsegai was invited to meet with U.S. Senator Kirsten Gillibrand (D-NY) as part of the senator's New York Community College Roundtable. Together with her SUNY counterparts, Dr. Tsegai learned of and discussed several initiatives Senator Gillibrand is leading to address the many challenges which students and campuses are facing in today's higher education landscape. In addition, she and her colleagues shared their perspectives regarding the most pressing issues New York's community colleges must overcome.
"The time spent with our representatives discussing legislative priorities is a significant step towards strengthening and supporting our colleges," Dr. Tsegai added. "At the state and national level, it transforms policies, practices, and services, which help advance the comprehensive mission of our institutions."