SUNY Erie's 75th Commencement Celebrates Class of 2023
SUNY Erie Community College celebrated the Class of 2023 this evening at its 75th annual Commencement with numerous messages of accomplishment, appreciation, hope and inspiration.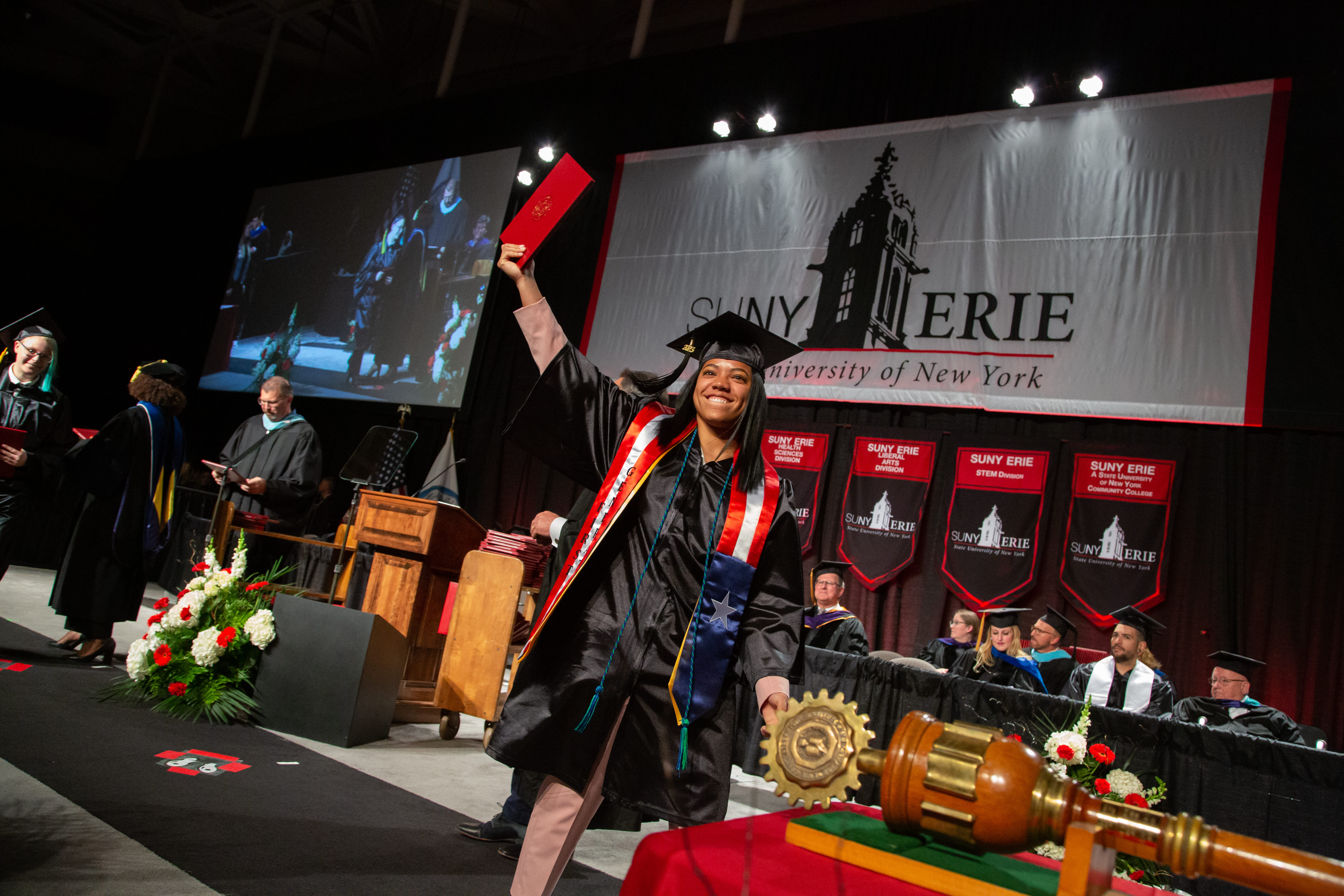 Thousands of attendees joined in the festivities, as family, friends, faculty, staff, administrators, trustees and dignitaries applauded the accomplishments of the more than 1,400 individuals who earned a degree or certificate during the 2022-23 academic year. The new alumni posed with classmates in front of life-sized selfie backdrops, while hundreds donned first-generation graduate badges, as they joined a network of more than 70,000 SUNY Erie alumni throughout Western New York and around the world.
SUNY Erie Professor of Mathematics Rick Newell led the procession as the official Mace Bearer, an honor bestowed upon the longest-tenured faculty member of the institution. SUNY Erie Board of Trustees Chair Jeffrey Stone, a partner with Hodgson Russ, served as Master of Ceremonies.
SUNY Erie Officer-in-Charge Adiam Tsegai began the program by sharing her congratulations from a unique perspective, as an alumna of the college herself.
"When I look out at all of you, I see myself – when I graduated from SUNY Erie many years ago," Dr. Tsegai recalled. "Choosing to invest in your education took sacrifice and commitment – not just from you, but also from those closest to you in your life."
In addition, she emphasized the extraordinary resilience shown by this class, overcoming mammoth obstacles such as the pandemic, the May 14 racist attack, and the December 2022 blizzard which took the City Campus Old Post Office building offline for the spring semester, in addition to the other pains it caused and lives it claimed.
"In order to be here today, each of you have had to withstand and recover from difficult situations," she said. "Your ability to adapt in the face of adversity and stress will carry you through the rest of your education, professional career and personal life."
The keynote address was delivered by TheArthur A. Duncan II, Esq., '06, who overcame a felony drug conviction and federal incarceration to become a well-respected Buffalo attorney, deacon and social justice advocate. Mr. Arthur shared a message of persistence and redemption as he detailed the many forms of adversity he overcame to become re-accepted into society – a journey which began at ECC under the guidance of a caring professor.
"I assumed I wasn't able to become an attorney, that my felony made me ineligible. Don't assume anything!" he advised the graduates. "Do your own research. Find out for yourself."
Indeed, he counseled, it is a focus on oneself that is most important as they move forward.
"How can you expect to take care of your family – your mother, your father, your kids – if you don't have yourself together?"
Duncan not only survived prison, he overcame employment biases, poverty, parental constraints, law school rejections, and the New York State Bar Committee on Character and Fitness, which determines if one is fit to become a lawyer. He instructed the Class of 2023 to use his story as a point of reflection whenever they encounter adversity in life.
"No excuses!" he insisted. "That's the set up. You have to find a way to get it done. If somebody says no, keep going until you find someone who says yes."
Two student speeches were also delivered by Social Sciences major Ian Stover and Business major Maji David-Maji. David-Maji also received an Honors Program medal earlier in the evening, along with Janet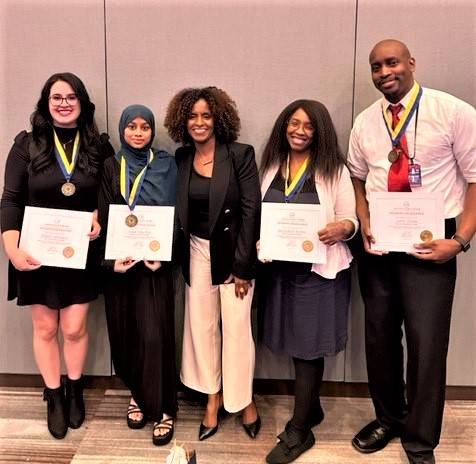 te Barber-Jacobs, who was unable to attend.
Other special honorees included Natural Sciences major Tanha Saddique, who was presented with the 2023 President's Medal, bestowed upon an outstanding member of the graduating class who, through hard work and perseverance has demonstrated excellence in the areas of academic achievement, co-curricular activity, citizenship and community service.
The 2023 Veterans Achievement Award was presented to Joseph Dee, a United States Navy veteran who served seven years and achieved the rank of petty officer third class. An active member of the City Campus Student Government Association and supporter of veterans' initiatives, Mr. Dee completed two degrees with a cumulative GPA of 3.7.
Lastly, four graduates were presented as winners of the 2023 SUNY Chancellor's Award for Excellence. They included Medical Assisting major Caitlin Altmann, Paralegal and Legal Studies major Jacquelyn Archie, General Studies major John Jones and Administrative Healthcare Assisting major Swar Hay Mar.