Four SUNY Erie Students Honored with Chancellor's Award
Four SUNY Erie students received the 2023 SUNY Chancellor's Award for Student Excellence (CASE) – the highest honor bestowed upon a student by SUNY – at an awards ceremony held Monday at the Albany Capital Center in downtown Albany.
The award acknowledges students for outstanding achievements that have demonstrated the integration of SUNY excellence within many aspects of their lives in areas such as academics, leadership, campus involvement, community service or the arts.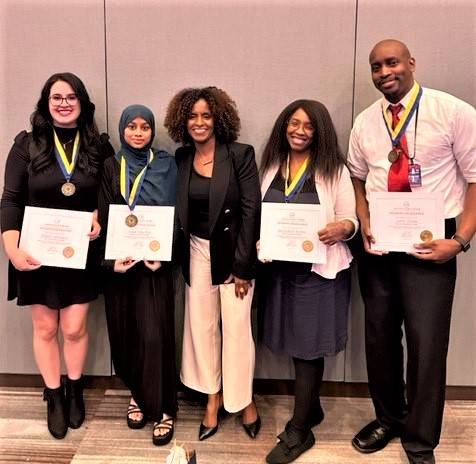 "We're incredibly proud of our students for this recognition, and I and members of our administration were pleased to attend and celebrate their accomplishments," said SUNY Erie Officer-in-Charge Adiam Tsegai. "These students each made a lasting, positive impact on our college and I'm grateful for their hard work and dedication."
The honorees included:
Caitlin Altmann, a Medical Assisting student who graduated in December 2022. One of the highest performing students in the program, Caitlin landed on the Dean's List each semester with a 3.9 GPA. The Cheektowaga native was described as having "a passion for knowledge" as she "perseveres to discover what her best truly is."


Jacquelyn Archie, a returning-adult student who has excelled in the Paralegal and Legal Studies program. Jacquelyn started the SUNY Erie Pre-Law Black Law Student Association in 2021 and has advocated steadily for student needs. Additionally, she serves as the student representative on the college-wide adjudication board and has attended rallies in Buffalo and Albany to advocate for community college students. She will enroll in a combined BS/JD program in the fall and intends to work with criminalized Black students to educate them about their legal rights.


John Jones, a general studies student from Buffalo. A non-traditional student, John has been extensively involved in the Educational Opportunity Program (EOP) at SUNY Erie's City Campus. He also helped reignite the Men of Merit Program, all while working full-time and remaining very active in his church and his community.


Swar Hay Mar, a student in the Administrative Healthcare Assisting Certificate program. Swar Hay is a Burmese immigrant who started at SUNY Erie in the fall of 2022 and, in the short time she has been at the college, has left an indelible and lasting footprint. She started an on-campus Culture Club in her first week and has worked diligently to make sure marginalized and underrepresented students have a voice and their cultural differences recognized.
State University of New York Chancellor John B. King, Jr. awarded 193 students from 63 campuses.

"There is a place at SUNY for every New Yorker, and each of the students recognized today is an example of our extraordinary student body and their rich and diverse 'SUNY stories,'" said Chancellor King. "Every student can find their community at SUNY, and I congratulate each of the CASE winners for making the most out of their college experience."