SUNY Erie Launches International Student Athlete on Path to Success
Meet Maji David-Maji, '23
"Wow, who would have thought a kid from Kaduna, Nigeria would be speaking at the 75th commencemen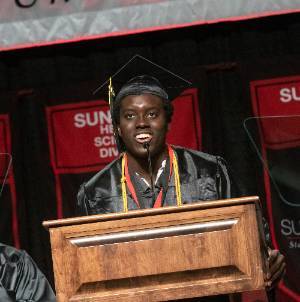 t at SUNY Erie Community College?" Maji David-Maji exclaimed as he took the stage during May's graduation ceremonies.
Yet, those who knew Maji weren't surprised. Maji had already traced a challenging path to SUNY Erie – and persevered.
As an aspiring professional basketball player, Maji first applied to, and was accepted at, Georgia State University. Then, Covid hit. Maji found himself stuck in Nigeria, unable to come to the U.S. In 2021, he finally came to Georgia State, but as a walk-on. Due to Covid and eligibility windows, the team had too many players. That's when SUNY Erie men's basketball coach, Alex Nwora, recruited Maji to come up north.
During Maji's time at SUNY Erie, he served as co-captain of the basketball team and the NJCAA recognized him as one of the 10 best players in the conference. As an honors student, he also maintained a 4.0 grade point average and was nominated for the President's Medal.
"Maji is one of those rare students who seems to be able to balance it all," remarked Jason Perri, dean of students. "He's a superstar on and off the court, leading his team with compassion and drive while also excelling in the classroom. His story as an international student is also one of perseverance and achievement, and I look forward to seeing the change he creates outside of SUNY Erie's walls."
About 90 international students from 20 different countries attended SUNY Erie in the spring 2023 semester – reflecting an area of growth in enrollment over the last few years.
As for Maji, he will be playing Division I basketball in the fall and finally achieving his dream.
"I would like to thank SUNY Erie for giving me the opportunity to showcase my skills in every regard. I owe everything I've accomplished to this school," he declared at commencement.