SUNY Erie's Ford ASSET program prioritizes paid, on-the-job training
If you told Josh Morris, '23, back in high school that he would not only go on to attend college but drive 90 minutes every day to do so, he never would have believed you. He had his eyes set on entering the local workforce right after graduation.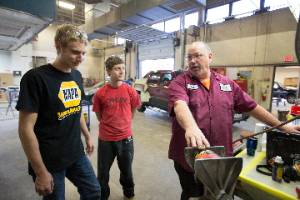 But that was before he learned about the SUNY Erie automotive technology program's Ford ASSET option. Lead instructor Mike Coughlin spoke to Morris' Genesee Valley BOCES class, and what he described – a program that combines classroom instruction with hands-on, paid experience in a local Ford or Lincoln dealership – was enough to sell him on the long commute from Livingston County.
For two years, Morris, a self-described "Ford guy" who knew he wanted to work in the auto industry, spent the first half of his semesters in the classroom, and the second half working at a local Ford dealership, putting what he had learned into action and getting real industry experience.
"I enjoyed high school, but I didn't want to go back to school and start over again," he said. "ASSET was a great program because you're not just stuck in the classroom 24/7."
Fast forward to today: Morris is an auto technician at Bob Johnson Ford in Avon, New York, a position that was waiting for him upon graduation in June.
The Ford ASSET track is a national Ford program, but SUNY Erie's is the only one in the region. It offers not only an Automotive Service Technician (A.O.S.) degree upon completion, but also Ford Motor Company certifications that are recognized at Ford and Lincoln dealerships nationwide.
Coughlin, a 1991 graduate of the program himself who worked as a certified Ford technician for 25 years before joining SUNY Erie full time, describes ASSET as a "symbiotic" arrangement that benefits all involved parties.
Ford provides training materials and vehicle technology for program use, students graduate with certifications that would otherwise take five to 10 years to complete, and Ford gets capable and certified auto techs ready for immediate employment.
Dealerships sponsor ASSET students, paying them for their time working during the program and training them on the job. Many dealerships offer graduation bonuses that include funding for required tools and tuition reimbursement that helps students start their careers.
"The current state of the industry is that it's growing so quickly and changing so fast that there's just not enough people to fill these positions," Coughlin said. "A good technician isn't just their physical ability to repair something – they're also capable of real critical thinking skills."
Coughlin said the ASSET program under his leadership has seen all types of students, from BOCES graduates to veterans to adult students looking for a career change. They just need one thing in common: a desire to learn and get their hands dirty.
"The dealers are looking for someone who wants to come in, work hard and fix some cars," he said.
Learn more about the Automotive Technology/Ford ASSET program at SUNY Erie.