SUNY Erie HVAC Program to Launch New Partnership with MJ Mechanical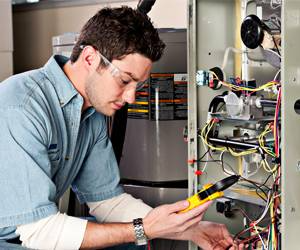 Beginning in the Fall 2023 semester, MJ Mechanical Services, Inc. will sponsor a group of students earning certificates in Heating, Ventilation, Air Conditioning and Refrigeration Technology. This partnership marks the latest expansion of SUNY Erie's efforts to work with private employers in high-demand fields to attract students and support the local workforce.
"For every two people leaving the HVAC field, there's only one entering," explains Robert Stranz, department chair of HVAC. "So, this partnership really addresses two needs: first, to expand the local hiring pool in this field, but more importantly, to give young people an opportunity for employment that provides a decent wage. Through MJ Mechanical's support, we can engage in a collaborative, community effort to give people a chance who might not otherwise have had an opportunity to get into the field."
The first year of MJ Mechanical's sponsorship will save seven to eight students approximately $7,000 each on their HVAC certificate program at SUNY Erie. The first cohort of students will be selected from those who are accepted for the Fall 2023 semester and apply for the scholarship through the ECC Foundation.
SUNY Erie faculty are partnering with Kyle Wood, MJ Mechanical's director of training, on prospective student outreach at schools, churches and community centers, with a focus on reaching those in historically marginalized communities.
"This is exciting. It gives us an opportunity to help the community we're so proud to live and work in," says Wood. "Programs like this benefit the industry because it adds more HVAC technicians to the workforce, which our communities depend on to help build new buildings, schools, hospitals and promise to our local economy. It also allows companies to take better care of their customers when they need it."
From an enrollment perspective, Erikson Neilans, vice president of enrollment management at SUNY Erie, says partnerships with local employers like MJ Mechanical help the college attract and recruit non-traditional students and under-represented populations within the region.
"Our county's recent growth with international, refugee resettlement populations, gives our college a valuable opportunity to connect adult learners from diverse backgrounds with high-paying opportunities in fields in need of skilled workers," says Neilans. "It's a great option for those who may not have the means to pay for training, but within one year, could launch a whole new career in HVAC and make an impact in the field right away."
So why should people choose a career in HVAC?
The program can be a good fit for recent high school graduates as well as adults in search of a career change, Stanz asserts. The certificate can be completed in as little as nine months, with daytime and evening class options available. No prior experience is required.