SUNY Erie Pathways & Journey's End Reaching Unmet Needs in Lackawanna
Last fall, leaders from Journey's End Refugee Services and SUNY Erie's Pathways program discussed the unmet need for English as an Additional Language (EAL) classes for the Lackawanna residents Journey's End serves. By January, 36 EAL leaners had enrolled in two SUNY Erie course sections taught by an instructor from Journey's End. One section is offered remotely, and one is onsite at Our Lady of Victory (OLV) Human Services on Ridge Road.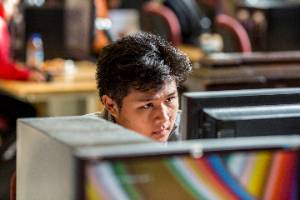 Members of the Arabic, Bengali and Hispanic communities living in Lackawanna previously had to travel far distances for similar courses. Through Pathways and Journey's End, refugee and other immigrant students can take their first step toward a college degree, the workforce, or keeping up with what their children learn at school, while closer to home.
"The immediate success of the EAL program at Our Lady of Victory speaks to the need in the community," Pathways Program Director Justin Kiernan attests. "We're pleased we were able to collaborate with our partners at Journey's End and OLV to put this program in place and provide those living in this area an avenue toward the workforce or perhaps a college degree."
Jacqueline Ashby, director of education at Journey's End, says word of the program spread fast, and she marvels at the dedication of the students.
"All students deserve access to an education within a reasonable distance. As a result, the community was very happy to see Journey's End and OLV partnering with SUNY Erie to meet that pressing need," she affirms. "The dedication of this cohort is impressive and inspiring. Many of the students are mothers, some of whom were never afforded the luxury of attending school past puberty. There's a selflessness to this community that can only be described as aspirational."
EAL at OLV represents the latest expansion of the Pathways program, which offers non-tuition coursework for GED candidates and EAL students. The program also offers pre-collegiate courses designed to provide remedial math and English to help prepare students for college-level success.
Pathways serves more than 1,000 students per year, with hundreds later enrolling at SUNY Erie. The program relies on community partnerships to reach students who may not otherwise learn English, earn a GED or prepare for college. In addition to Journey's End, Pathways partners with Buffalo Public Schools, the Ken-Ton School District and Catholic Charities.
Kiernan and Ashby both say the EAL program at OLV is already changing lives.
"We couldn't do the work we do at the Journey's End Education Department without Pathways," Ashby contends. "Pathways gives our refugee and other immigrant students the chance to learn, retrain to join our area's workforce and pursue their professional dreams."