SUNY Erie and BestSelf host kick-off to National Girls & Women in Sports Day for Local Students
Assemblymember Monica Wallace and sportswriter, author and women's sports advocate Lyndsey D'Arcangelo lead opening ceremony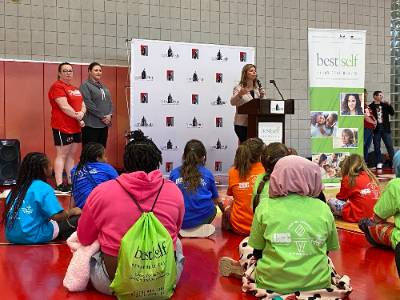 Fifty local students in third through tenth grade participated in the kick-off celebration today for National Girls & Women in Sports Day, hosted by SUNY Erie and Building Brighter Futures of BestSelf. The girls played in a sports-sampling event under SUNY Erie students' leadership and attended a children's mental health and physical wellness fair at the college's Burt Flickinger Athletic Center.
The 37th annual National Girls & Women in Sports Day on Feb. 1, a day uniting community organizations and female athletes, brings national attention to the promise of girls and women in sports. Annually, schools and organizations host over 300 grassroots events across the nation, reaching 200,000 girls and women.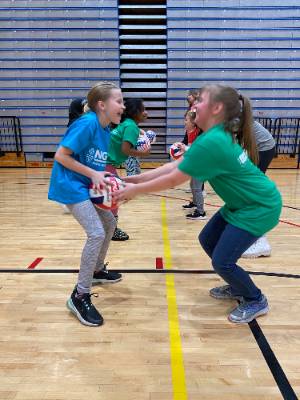 SUNY Erie and Middle Early College High School students served as team leaders, as participants spent an active morning playing volleyball, soccer, basketball, flag football, golf and practicing yoga.
"We wanted to give our students the opportunity to use their learned knowledge from their coursework to take on a mentorship role, and to join the movement of standing up for equitable access to sport for all women and girls," said event co-coordinator Jaclyn Rocco-DiaPaul, department chair and instructor for SUNY Erie's Health, Physical Education, Sports & Leisure Studies Department. "This celebration serves as an important reminder of the bravery and leadership it took to get to this point in women's sport today."
Most of the young students in attendance participate in BestSelf's Building Bright Futures (BBF) partnership with Buffalo Public Schools, which serves over 2,000 students and families in grades K-12 through after-school programming.
"Among our goals, BBF promotes positive youth development and healthy life choices, and fosters long-term interest in arts and recreation," said Carolyn Valone Bell, director of sport-based mental health and wellness programs at BestSelf and co-coordinator of the event. "This event exposes young girls to the fun and benefits of sport and mental wellness, giving them confidence, and learning about sport as an avenue for healthy minds and bodies."
Rocco-DiaPaul and Valone Bell convened several community organizations to lead the sports stations and participate in the health fair, including The Champion Project, Soccer for Success, Police Athletic League (PAL) and Lifelong Yoga.
Assemblymember Monica Wallace introduced the resolution memorializing Governor Hochul to proclaim February 1 National Girls and Women in Sports Day.
"In the 51 years since Title IX was adopted, women have made incredible strides in sports and are now well-represented in athletics from elementary school leagues to the Olympics. National Girls and Women in Sports Day is a time to recognize how far we have come, celebrate accomplished women athletes, and encourage more young women to participate," said Assemblymember Wallace. "I thank SUNY Erie Community College, BestSelf Behavioral Health, and Buffalo Public Schools for working together to get even more girls involved in sports, because we know that playing sports at a young age is associated with a range of positive health, developmental and behavioral outcomes later in life."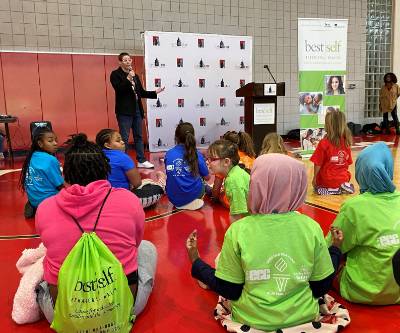 To lead off the event, Lyndsey D'Arcangelo, women's college basketball and WNBA writer for The Athletic and Just Women's Sports, shared her experience growing up as a female athlete in the late 80s/early 90s and how the landscape for girls in sports has changed for the better.
"I had a few defining moments throughout my childhood when I was told by parents and coaches that I couldn't play on certain teams because of my gender," said D'Arcangelo, co-author of the book, "Hail Mary: The Rise and Fall of the National Women's Football League."
"It was really tough, but those disappointments left an impression on me and fueled my passion for advocacy and writing about women's sports."